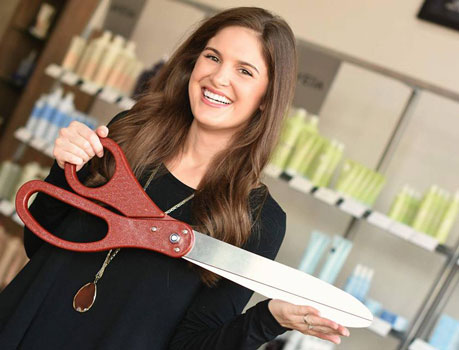 It was an amazing journey that led me to be the owner of Dame Salon Spa in my hometown of DePere. In 2014, I met Carol Reynolds Scanlan, the owner of the Studio on George, and felt an immediate connection. Over time, we built a friendship and business relationship based on mutual respect. With Carol's unwavering support and kindness, I purchased the Studio on George July 1, 2016. She mentored me with grace and taught me about life along the way. After 12 years in the industry, I was proud to make my dream a reality.
In the meantime, I was introduced to Kathryn Royle, the women who would bring my dream to life. Kathryn is the owner of the Baeten Building and That Covers It, a custom design and upholstery business also located in the Baeten Building. She is passionate about helping women succeed in business. Kathryn is one of a kind. I am proud to have her as a mentor and friend. Her design expertise, mastery level textile skills and motivated work ethic were an unstoppable force. Kathryn helped me transform 620 George Street to the urban downtown city feel I always dreamed of creating.
I inherited an incredible team from the Studio that was the foundation of Dame. In growing the business, I added a talented and experienced group of new employees. Together we worked through an entire renovation and transitioned into a full Aveda Concept Salon. I was honored to lead this phenomenal group of strong, kind, smart and open minded women.
Maggie Dame