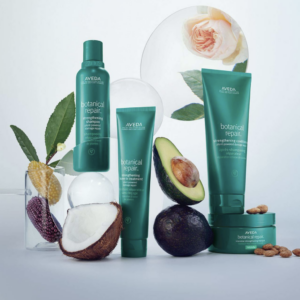 Hair damage is something that sneaks up on everybody at some point and can leave locks lackluster and in need of damage control.  Aveda's revolutionary Botanical repair will give you a fully revived head of hair that looks shinier, bouncier and healthier!
Aveda's team of renowned scientists searched worldwide for powerful plant actives and spent six years testing them until they uncovered the exact sequence that repairs the three key layers of hair.  The result is an award winning system consisting of a shampoo, conditioner, light and rich masque, and a leave-in treatment.  Botanical repair is suitable for all hair types, including healthy hair to ensure that it doesn't become damaged!
This month at DAME, be entered to win a complete Botanical repair system with every Botanical repair purchase!
BR Treatment: A Team DAME Must Have!
After a summer filled with sun and fun, hair needs TLC!  In as little as 10 minutes, a Botanical repair professional treatment at DAME will strengthen and repair hair from the surface to the core, instantly transforming dry, damaged hair.  This quick treatment can be added to any service, any time. 
Defining DAME
Who are we?  What makes us tick?  As a team, we embraced the opportunity to define these very questions and the results were incredible!  Team DAME deeply values a culture of respect, growth, communication, honesty and fun!  Each of us is genuinely committed to protecting what we stand for and what we desire to become.  
VISION:
To make the world a better place making one day at a time. 
MISSION: 
Create electric energy of heart, teamwork, communication and dedication that nurtures and inspires our guests and team.
CORE VALUES:
Team, Heart, Communication, Dedication
Leading with Love
Maggie recently immersed herself in a leadership transformation journey at InitiativeOne.  InitiativeOne, led by nationally recognized Dr. Fred Johnson, inspires leaders to change their own hearts and minds to find a deeper understanding of themselves and their team.  
Team DAME had the honor of hosting Dr. Fred at its recent Monday Jam.  He invigorated, challenged, and inspired us to nurture ourselves so we can continue to grow and strengthen our relationships personally and professionally.  
The Original Four
As DAME celebrated 5 years, so did these amazing four women.  The "OG's," as we endearingly call them, have embodied love, laughter and loyalty for 5 special years.
"Trees are a symbol of strength and wisdom, wood is durable.  The thought is that by the 5th year, the relationship is also developing these same traits. "  We love you Mary, Holli, Lana and Laurie!
Aveda Plus Rewards
Men's Grooming: August 16-22
Men's Pureformance grooming clay:
Redeem 2,000 points
Men's hair care set:
Pureformance shampoo, conditioner and grooming clay
Redeem 5,000 points
Men's invigorating set:
Pureformance shave cream, Rosemary mint hand & body wash, Lipsaver
Redeem 4,000 points