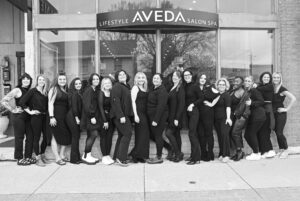 The gratitude in my heart for our incredible team who show up every day and shine their beautiful bright lights is immeasurable.  Together our purpose is to make days and we are humbled by the opportunity you give us to do so each time you choose DAME.  Thank you. Thank you. Thank you.
Maggie Dame
Healthy Hair = Healthy Scalp
Scalp health is trending on TikTok and Instagram as people begin to recognize the connection between healthy roots and healthy strands!  With Aveda's NEW Scalp Solutions Collection, you can instantly refresh your scalp and visibly transform strands with vitality and shine.  Scalp care, while often overlooked, is essential to hydrated skin and healthy-looking hair.  Just as you care for the skin on your face, your scalp needs to be cleansed, moisturized and exfoliated to remove excess oil and fight premature aging.
A facial for your scalp?  Yes, Please!  Experience the NEW Pro Scalp treatment at your next appointment.  Only at DAME!
Heart to Heart
Every month, each member of Team DAME is guided with a 30 minute heart to heart with Erin.  Personal wellness is at the center of this special time where everyone misheard, supported and celebrated.
Aveda Plus Rewards
July 1-7
Nutriplenish daily moisturizing treatment
Redeem 3,500 points
July 13-19
Summer 4-piece mini treatment set
Redeem 4,000 points per set
July 25-31
Nutriplenish styling treatment foam
Redeem 3,000 points
July 1-12 & July 24-31
Earn 500 bonus points with the purchase of any two full-size nutriplenish products
July 13-23
Earn 2xs the reward points on all purchases