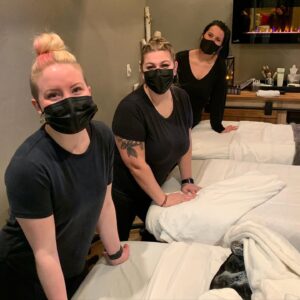 Experience the new and improved DAME Skincare Treatment!  Aly, Andi and Kayla are excited to share this results driven treatment packed with benefit producing techniques and products.  Exfoliation is the star of this show and Aveda's Plant Powered Peel, combined with the smoothing results of Dermaplaning, deliver the results you are craving in a skincare treatment.  Relax in our Aveda Spa Oasis knowing that when you awake from your session you will not only feel but look renewed.  Book now!
Nutriplenish: Hair on Superfoods
Each one of us has experienced some level of dry, depleted hair.  Nutriplenish products are your hydration superheroes!  Powered by superfood nutrients, the Nutriplenish system helps hydrate and visibly replenish the hair.  Pomegranate seed oil protects the outer layer, coconut oil softens and penetrates hair to hydrate from within, and mango butter helps moisturize.  Your hair is truly in for a healthy treat!  This line is safe for color treated hair and has an intoxicating aroma: fresh, spicy and floral. 
NEW!  Nutriplenish Daily Moisturizing Treatment
There's a new addition to the A-list Nutriplenish line-up!  Introducing Nutriplenish daily moisturizing treatment.  This rich, soft cream melts into hair and locks in moisture for up to 72 hours.  It also provides heat protection, manages frizz, instantly detangles, and helps prevent breakage.  Ideal for all textures of medium-to-coarse/thick, dry to severely dry hair.  
This month at DAME, be entered to win a complete Nutriplenish system by purchasing any Nutriplenish product.  Products include: Light or deep shampoo and conditioner, multi-use hair oil, leave-in conditioner, and new daily moisturizing treatment.  
Welcome, Rockstars!
We are thrilled to welcome Nou and Brittany to Team DAME.  Nou is a stylist and nail artist while Brittany shines bright at the front desk.
Giving Back
Holli and Kayla gave of their hearts, time and talent at the St. Baldrick's Foundation annual event to benefit childhood cancer.   We are so proud of their service, shaving heads for a great cause and helping raise over $50,000 for childhood cancer research.  
Blonde Revival
Reawaken your blonde with Aveda's new Blonde Revival shampoo and conditioner!  Specially formulated to revive blonde, naturally gray or silver hair with 8x the violet-rich pigments of Blue Malva.  Cools tone and eliminates brassiness in one use while leaving hair silky and soft without weighing it down.  Preorder now!
Aveda Plus Rewards
April 6-12
Redeem 2,500 points
Nutriplenish leave-in conditioner (with purchase of Nutriplenish shampoo and conditioner)
April 16-21
Redeem 2,500 points
Botanical Kinetics deep cleanse masque
Be a Daymaker,
Team DAME