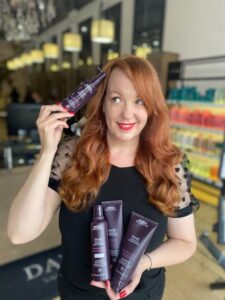 If thicker strands are on your fall wish list, look no further!  Aveda's Invati collection prevents breakage, reinforces fragile strands and volumizes hair from scalp to ends.  It was created from over 20 years of scientific research and 3 units are sold every minute!  It's no wonder the collection has won 36 awards worldwide.  Instant benefits and long-term results?  Yes, please!
3-step system: Reduce hair loss by 53%
Use it daily.  Love it forever.
Thicker, fuller hair is calling your name!  
Exfoliate: nourishing shampoo cleanses and renews the scalp.

Thicken: conditioner instantly thickens hair, with fullness that lasts all day.

Activate: scalp revitalizer helps reduce hair loss to keep the hair you have longer.
Bailey
This bright, shining star gifts our team with the perfect balance of professionalism and laughter.  Her light heart makes her hard work and dedication look easy.  She creates a consistent and intentional routine with a clear purpose to make your day!
Bailey represents today's incredible youth and upcoming beauty professionals.  She is full of ideas, takes great pride in her work, and has a determined heart to create a beautiful career.
The DAME jacket
The DAME jacket was initially born as a fun way to represent our culture and team.  It has since evolved into a much anticipated tradition!  Each new team member now ceremoniously received their special DAME jacket on their first year anniversary, symbolizing their initiation as a DAME Daymaker.
Love note from our guests
"Nicole is a master colorist and stylist.  My color requests are atypical and change as my aging hair changes.  Nicole offers options, consults with her colleagues and expresses what she believes is the best path.  She is an expert at giving great style to hair through transitional phases and making small adjustments to favorite cuts to keep the style fresh and renewed.  Nicole is the consummate professional who puts the concerns of her clients first.  Maggie Dame is very involved with all aspects of the daily activity in the salon and is very generous with her time.  The staff are extremely friendly and competent."  – Cheryl Grosso
AVEDA Plus Rewards
September 1-30
Earn 500 bonus points when you purchase any full-size botanical repair, nutriplenish or invati advanced hair treatment
September 6-12
Invati brow thickening serum 
Redeem 6,000 points
September 14-20
Invati advanced thickening foam
Redeem 3,000 points
September 22-28
Redeem a $50 Aveda salon gift certificate for 7,500 points