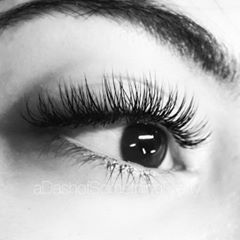 Let Dame Salon Spa put the "Spring" back into your step!
Fluttering into the future at Dame. We are so excited to offer and launch SugarLash Lash Extensions. This service consists of adhering individual lashes to your natural lash line for wear up to 4 weeks. These extensions produce immediate results leaving your eyes looking brighter and more defined. For the entire month of March, receive 20% off any 2 lash services. Our experts are ready to enhance your look "one lash at a time"!
Here comes Wayne! Dame is thrilled to be hosting Wayne Tuggle of Hanson Shears for our March Monday Jam. Wayne is a celebrity stylist from North Carolina who will be sharing his mastery cutting skills with our team on March 4. As always, Team Dame is 100% committed to learning + growing to be the BEST for you.
Lana, Malia, Maggie, Holli and Ingrid will be representing Dame for St. Baldrick's downtown Green Bay on March 10.  We will be shaving heads again this year at St. Brendan's helping to raise funds and awareness for research in the curing of childhood cancer. We love taking part in this inspiring community event supporting a cause we can all rally behind. Watching the crowd roar and cheer for each daring shavee never gets old.
Team Dame Rockstar Alert! Holli has been asked to present her best practices on running Dame Salon Spa's Instagram Story at the Eau Claire Aveda Innoveda Summit. I will accompany Holli on March 11 while she represents Wisconsin to share her social media specialty at the Summit. Holli's expertise in this area has created much buzz and recognition for our team. Go Holli!
We are growing! Join me in welcoming Sandy to our outstanding front desk team. Her superior work ethic and warm personality will make your day. Sandy looks forward to meeting you.
Special shout out to Nikki and Kelly for representing Dame Salon Spa as our Aveda Ambassadors. Nikki and Kelly travel to trainings, participate in monthly phone conferences and present their knowledge back to us at our team connections. We are grateful for their love and commitment to Dame and Aveda.
Cherry Almond, Shampure and Rosemary Mint are competing for your love this Spring. Purchase your favorite travel size shampoo, conditioner and hand relief and receive an adorable pairing travel bag.
Which team are you on?
Maggie