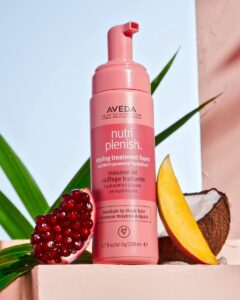 The NEW Nutriplenish styling foam delivers luxurious hydration, natural shine, and soft hold!
The breakthrough formula combines the power of a treatment with conditioning superfoods and the benefits of a high-performance styling foam.  Heat protection from thermal styling up to 450 degrees and a shiny, volumized look without any stiffness or build-up.  
This hydrating hair foam is designed to benefit all hair types.
5 Reasons You'll Love It:
Helps fight frizz and flyaways

Great for maintaining or setting style with a soft hold

Quick dry upon application

Builds volume

Leave-in hydrating treatment
Summertime and the living is easy…except for on your hair!
Strong UV rays, excessive heat, and too much time spent in a chlorinated pool or salty ocean can zap strands of moisture, leaving hair looking and feeling dry, frizzy and distressed.
Cue: Aveda's hyper-hydrating, superfood-packed Nutriplenish collection!
Carolina
Nurturer.  Caretaker.  Warrior.
Carolina is a shining definition of these three very powerful words.  She is a woman of strength and a true steward of her faith.  Her outlook on life is a powerful example of how to live each day with a grateful heart.  She sees sunshine on a rainy day, finds light in the darkness, and truly makes sweet lemonade out of life's most sour lemons.
DAME would not be the same without Carolina's positive attitude and energy.  Each of her creations is filled with heart, love and intention.  It has been an absolute joy to watch her design her dream life for both herself and her precious daughter, Haley.
Carolina…you are adored and appreciated for the beautiful person and professional you are.
Grandparents Day
September 11 is Grandparents Day, and TEAM DAME would cherish the opportunity to care for those you love!  Did you know that Maria's primary professional passion is caring for elderly guests?  She traveled to Canada to become certified in pedicures specifically for those with medical conditions, including diabetes.  Maria is dedicated to her work as a natural, healthy nail expert who genuinely loves taking care of her guests (and their hands and feet)!
Welcome, Georgia!
We are so excited to introduce you to our newest DAME Daymaker. 
Georgia, a student at De Pere High School, is a natural leader and filled with ambition.  Her sweet-as-pie personality is truly a gift to our front desk team!  We can't wait for you to meet her.