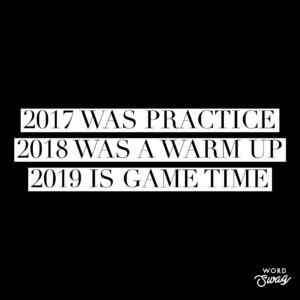 Cheers to the New Year!!!
Bring it on 2019. We are ready for a kick @$$ year!
Team Dame will jump start January by honing our BLONDING techniques at our first Monday Jam session of the year. Blonde expert, Malia, will be perfecting our skills and techniques so we can create and customize an individual look specific to you.
They are fanLASHtic!!! Dame is introducing Sugarlash Pro Lash Extensions. These lashes are at the top of the high lash society and continue to push the industry standards with breakthrough technology and advanced education. Experience this stunning look for yourself in the new year. Batting your eyelashes has never been more fun or sexy!
Love Rosemary Mint and Shampure? These signature aromas are back and better than ever! Both are vegan, cruelty-free and 98% naturally derived. Rosemary Mint Shampoo gently clarifies with a wheat derived white vinegar washing away dirt, oil and buildup without any drying properties. Pair these together with our signature soy candles and calm your senses with 40+ hours of clean burn time.
Dame Salon Spa's employees will be celebrating an amazing year of hard work, fun, love and successes at our holiday party on the 13th of this month. The evening will be hosted in downtown DePere's newest social club, Baffi Di Luccio's. This time together will be shared not only as coworkers but as friends.
Team Dame has a new shining star. Ingrid is a distinguished graduate of Paul Mitchell The School. She is excited to dive into her career as a full service stylist at Dame. Her specialty is lashing and she looks forward to sharing that passion with you. Welcome Ingrid!
Lunch and Learn. I will be getting to know our friends at Paul Mitchell by hosting Dame Salon Spa's first lunch table Q&A session with the students.  It'll be invigorating to meet the future of our industry and learn from them.
Chris and I will be heading to New Orleans for Aveda's Serious Business education event in late January. We are ready to learn, grow and bring back a wealth of inspiration to the team.
2017 was practice
2018 was a warm-up
2019 is game time
Let's do this.
Maggie