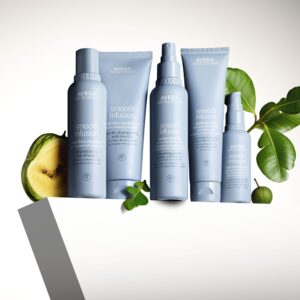 Smooth Infusion got a makeover and has arrived just in time for summer to keep your hair sleek and free from humidity!  The NEW advanced formula collection provides 72 hours of frizz protection in just one use.  Smooth Infusion will not only look a little different, but you will also see that there are two new additions to the family: Perfectly sleek and Perfect blow dry.
The regimen: Cleanse with anti-frizz shampoo, condition with anti-frizz conditioner, pre-style with style-prep smoother, treat and style with perfect blow dry and/or perfectly sleek!
This month at DAME, receive a FREE sample perfect blow dry with any smooth infusion purchase!
Perfectly Sleek
Heat-activated styling cream that transforms naturally curly and coily hair textures into smooth, sleek styles.  Provides humidity and frizz defense and protects hair from heat styling up to 450 degrees.
Perfect Blow Dry
A lightweight, heat-activated blow dry treatment for straight, wavy and curly textures.  Each strand of hair is wrapped in an invisible anti-humidity shield locking out humidity and keeping frizz-prone styles 5x smoother and sleeker for longer.  Heat styling protection up to 450 degrees.
Meghan
Meghan is effortlessly cool!  She inspires all of us with her impeccable fashion and artistic ability.  As  stylist, she crafts the most beautiful hairstyles that play to each of her guests specific needs.  She is always learning and pushing herself to hone her already exceptional and impressive skill set.  Meghan is genuine, honest and thoroughly explains to her guests how they can recreate their styles at home.  
Meghan is incredibly humble!  She shows vulnerability by wearing her heart on her sleeve and connecting with people on a deeper level.  She shows love and affection with her quick wit and humor and brings an overwhelming amount of joy to Team DAME.  We love and adore you, Meghan!
Bridal is Back
We are thrilled to announce that Kayla is taking on a new role as DAME's Bridal Coordinator!  Kayla will manage all brides and bridal parties and is excited to offer off-site bridal services as well.  Visit damesalonspa.com for all the deets!  It's good to be a DAME bride!
Earth Month
April is Earth Month, an annual moment of awareness for the 771 million people who live without access to clean water.
At DAME, we are doing our part to raise funds for Aveda's global partner, Charity: Water.  Raffle tickets will be sold for the chance to win a smooth infusion blowout and 3 smooth infusion products: Perfectly sleek, perfect blow dry and style-prep smoother!  In addition, $5 from every shampure shampoo bar sale will be donated to help bring clean water to more people.
Aveda Plus Rewards
April 1-30
Discover the NEW anti-frizz collection
Earn 500 bonus points with any purchase of two full-size smooth infusion products
April 13-17
Cult Favorites Trio: Air control, hand relief, thickening tonic
Redeem 6,000 points