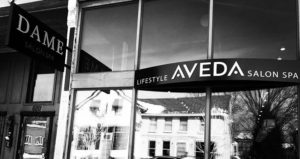 "The bigger the dream, the more important the team." As we celebrate 3 years in business, it is a time to reflect and thank the amazing people who have shaped and supported Dame Salon Spa.  I am grateful and humbled each and every day by the constant love and loyalty shown by Team Dame and our guests. What a ride. Thank you from the bottom of my heart to ALL who have shaped this magical journey.
JULY SUMMER GIVEAWAY! Team Dame has put together some of our summer favorites just for you. In the month of July, purchase any of the summer must haves and be entered to win our summer "must have" giveaway basket. Products included are Suncare Hair and Body Cleanser, Suncare Hair Veil, Hydrating Masque, Smooth Infusion Style Prep, Texture Tonic, Daily Light Guard, Cooling Oil and Lip Saver. 
Prosecco Pedicures…..need I say more? Sip and chill on a refreshing glass of bubbly all summer long while experiencing a luxurious Aveda Pedicure at Dame Salon Spa. Cheers!
Join me in welcoming Sarah to our Front Desk Team. Sarah is a student at UWGB studying communications and public relations. She is bright, kind, fun and ready to help. Welcome, Sarah! We are excited to have you at Dame!
Overflowing inspiration was on display in front of Dame Salon Spa at De Pere's Art Walk on June 14. Nikki, Malia and Lana came home from New Orleans with their artistic tanks full. They brilliantly attacked our live hair show exhibiting professionalism and creative skills on every level. Stephanie raised the bar by applying avant-garde makeup to each model completing their innovative looks. Way to represent and rock your talents!
Cheers to 3 years!
Maggie Dame