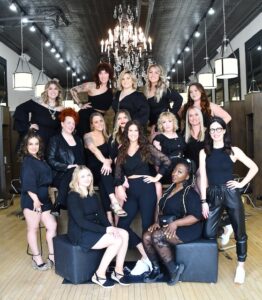 Celebrating 6 Years
This anniversary is a celebration of Team Dame.  We arrive at this special milestone focused, grounded, and thriving.  We know who we are, what we stand for, and where we are going.  Together we are dedicated to our purpose, changing the world by making one day at a time, and we thank you for giving us the opportunity to do so every day at DAME.
With love and gratitude,
Maggie Dame
The Color Keeper
Wondering how to preserve your salon-fresh color between appointments?  After 5 years of research, Aveda's NEW Color Control Shampoo & Conditioner has changed the way we care for colored hair.  The technology instantly neutralizes color-dulling particles to help protect your hair when you wash.  The dual-charged molecules are water-activated and create a conditioning layer on the hair that doesn't rinse away.  Color Control will keep your color radiant for up to 8 weeks!
Giveaway Time
During the month of July, for every $100 Aveda retail transaction, receive a Color Control travel size shampoo and conditioner and a BONUS travel size Shampure hand relief!  Packaged in a luxury Aveda bag, this is the perfect treat for yourself or ready to gift to someone special.  A $37 value!
Aveda Plus Rewards
July 1-7
NutriPlenish Full Size Sets (light or rich)
Redeem 4,000 points
July 1-22
NEW!  NutriPlenish Styling Foam
Earn 500 bonus points with the purchase of NEW NutriPlenish Styling Foam
July 13-19
NEW: Color Control Shampoo & Conditioner Set
Redeem 6,000 points
NutriPlenish Curl Gelee
Redeem 3,000 points
July 23-31
Earn 2x Aveda Plus Rewards points with any purchase