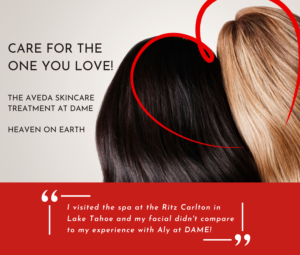 Care for the One You Love
This Mother's Day, May 14
The AVEDA Skincare Treatment at DAME…Experience Heaven on Earth!
"I visited the spa at the Ritz Carlton in Lake Tahoe and my facial didn't compare to my experience with Aly at DAME!"
Powerhouse Trio
In between your skincare treatments at DAME, maintain your glow with these three MUST HAVE Botanical Kinetics products for your at-home facial: Radiant Skin Refiner, Deep Cleansing Clay Masque, and Intense Hydrating Masque.
DAME DAY!
A celebration of who we are, what we do, and why we do it.
2023 Daymaker
Nicole was voted by TEAM DAME as its first Daymaker of the Year!  Nicole embodies our values of Heart, Team, Communication and Dedication.  She shows up, delivers the mail, leaves no person left behind, and is truly a "hype girl" for our team and guests.
Replenish at Night
All day long, hair loses hydration through heat styling, over washing, air conditioning, pollution, UV rays, and cotton pillowcases.
The NEW Nutriplenish Replenishing Overnight Serum increases hair hydration by 2x and replenishes lipids beginning in just one night!  Wake up to ultra-hydrated, healthy-looking hair that's soft and smooth to the touch.
This month at DAME, be entered to win an AVEDA Skincare Treatment with the purchase of a Nutriplenish Serum!
Welcome, Kim!
Kim has been a part of the beauty industry since 2011, working behind the chair (at the Studio on George) and also for the AVEDA organization.  She is so excited to return to DAME as a stylist in a place she feels very much at home.
It's BAAAACK!
Air Control Travel – weightless hold that feels lighter than air!
AVEDA Plus Rewards
May 4-10
Nutriplenish Hair Trios
Redeem 3,500 points
May 12-18
Redeem a $50 Aveda Salon Certificate
Redeem 7,000 points
May 25-31
Nutriplenish Leave-in Conditioner
Redeem 3,000 points
May 1-31
Earn 500 bonus points when you purchase the NEW Nutriplenish Replenishing Overnight Serum