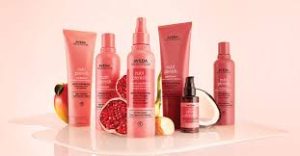 Team Dame is ready to rock 2020!
Introducing…..NutriPlenish!!!! We are thrilled with the arrival of Aveda's latest and greatest product. This NEW system includes two shampoos and two conditioners. One light and one deep so you can find the perfect hydration for YOU. The leave-in conditioner spray protects from heat up to 450 degrees. The hair oil is 100% naturally derived and will smooth the coarsest of hair. Bonus….be entered to win an entire NutriPlenish system with any singular NutriPlenish item purchased this month. 
Microblading is the hottest trend in the beauty industry and it's available at Dame Salon Spa! Our trained staff is excited to create beautiful brows for you. Microblading is the art of placing tiny strokes of a semi-permanent pigment over your existing eyebrows. This is done with a small handheld tool appropriately named, a "microblade". This tattooing technique mimics and enhances your natural brows with individual hair-like strokes giving your brows shape, color and dimension lasting one to three years. If you are looking to create fuller brows, a higher arch, remedy over plucked brows, create symmetrical brows, wanting a solution for hair loss due to alopecia or any other medical condition, microblading is 100% for you. Wake up every morning with perfect brows! Call today and consult with one of our trained professionals.
Welcome, welcome, welcome!!! Dame is growing. We have three wonderful new women on our team. Nicole comes to us as a seasoned stylist ready to jump in and join forces with our salon team. Marina and Helen, both students, will enhance our front desk team. We are grateful to all for their positive energy to represent Dame and take care of YOU.
Serious Business in NOLA:  Chris and I are headed back to New Orleans for our annual trip to Aveda's Serious Business. We look forward to a weekend filled with inspiration, motivation and growth. It is always a stretching experience. 
Wellness at Dame:  Our 2020 wellness journey began with a breath and meditation session led by our friend and neighbor, Elisabeth Herbner from FLOW Yoga. Our DePere community is so very special and our friends and partnerships mean so much to our growth, success and happiness.
Learn + Grow:  At Dame Salon Spa, we are 100% committed to being the absolute best for YOU. Team Dame hosted local salon owner and educator, Jessica Ullmer to kick off our 2020 Monday Jam. She taught two awesome coloring techniques adding fun and inspiration along the way. Thank you Jessica for elevating Team Dame. 
Happy New Year!
Maggie