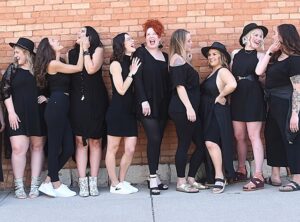 Heart
One of the four values we live and breathe at DAME.  It is the love, respect and genuine kindness we give to each other and to our guests.  The value of heart is woven throughout our work, our actions, and our words.
Laurie

Laurie radiates light and love!  She is a free spirit that blesses our team and her guests with positivity and zest for life.  We adore her sweet swagger, way with words, and devotion to health and wellness.  The calm and clarity she provides through her massage and ear candling services are experiences we are proud to offer at DAME.  We love you, Laurie Loo…and your passion for faith, flamingoes and fun, too!
Calling all prom babes!
The countdown to prom is ON and our girl Kayla is ready to give you the look of your dreams!  Kayla is a master of all things styling, as well as a makeup guru, and cannot wait to help you shine bright on your big day.  She is committed to her craft and loves researching and perfecting the hottest trends and styles.  Kayla's Saturdays in March and April are filling fast.  Do not wait to reserve your special date!
Sweet Valentine
The Cherry Almond line offers a delicious treat year round…but the juicy, floral aroma and pink packaging make it a perfect gift for your Valentine!  Available in shampoo, conditioner, hand & body wash, body scrub and body lotion…your special someone will feel sweet and soft from head to toe!  Did we mention it smells AMAZING?
Welcome, Daymaker!
We are thrilled to welcome stylist Lexi E to Team DAME!  Lexi is currently offering nail and lash extension services and has received rave reviews!
Aveda Plus Rewards
February 1-28
Botanical Repair
Receive 1,000 bonus points with the purchase of a Botanical Repair Strengthening Set:
BR strengthening shampoo
BR strengthening conditioner
BR intensive strengthening masque
February 16-20
Rosemary Travel Set
Set includes: Rosemary Mint Body Lotion
Rosemary Mint Hand & Body Wash
Rosemary Mint Purifying Shampoo
Rosemary Mint Weightless Conditioner
Shampure Travel Set 
Set includes: Shampure Body Lotion
Shampure Hand & Body Wash
Shampure Nurturing Shampoo
Shampure Nurturing Conditioner
Redeem 2,500 points