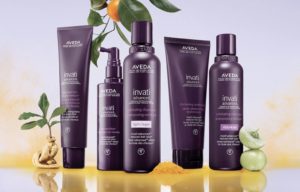 Do you crave thicker, fuller hair?  Have you been frustrated by hair loss?  Does your hair break easily when brushing?  The new and improved Invati Advanced Hair Treatment System can help!  This month at Dame, be entered to win a regular-sized Invati system with ANY Invati purchase!  We are so excited about this product line and want you to experience the love, too.
The Invati Advanced 3 step system, color-safe and now customizable by hair and scalp types,  includes a shampoo, conditioner, and revitalizer.  When applied once daily, hair loss is reduced by 53% and your hair will instantly feel fuller!  Its luxurious aroma features certified organic lavender, rosemary, geranium, vanilla, and other pure flower and plant essences
SHAMPOO
Now in two formulas!  "Rich," the same great formula you are used to but with a new name,  is ideal for medium to thick hair and normal to dry scalp.  It will gently exfoliate and renew the scalp while delivering a soft, smooth, and nourished after-feel.  "Light" is a new formula ideal for fine hair and a normal to oily scalp.  While gently exfoliating, it will also purify and renew the scalp while delivering a clean, weightless airy after-feel. 
CONDITIONER
Certified organic Amla instantly thickens the hair and this weightless blend protects the hair from breakage.  Invati means "invigorate" and this conditioner should be applied from root to end to truly invigorate the scalp when massaged in.
SCALP REVITALIZER
A daily leave-in treatment that will help you keep the hair you have longer!  It penetrates and supports the hair's natural keratin and thickens and lifts hair at the roots.  Fun fact?  It contains ginseng and caffeine!  Use daily to refresh, rejuvenate, and create an instant fullness to your hair.
The newest product to the amazing Invati lineup?  INTENSIVE HAIR MASQUE!  Plump each individual hair strand while nourishing and reinforcing the hair during this 2-5 minute, at-home treatment.   This masque will not build-up or weigh down your hair.
VOMOR
Looking for more ways to pump up the volume?  We invite you to schedule a complimentary consultation to learn more about our VOMOR hair extensions!
New Year…New Hair!  Our team is ready and equipped to customize the perfect hair care plan for you.
Be a Daymaker,
Team Dame