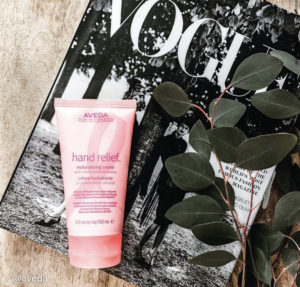 Show your support for Breast Cancer!  Dame offers two ways to rock the pink: VoMor Extensions in raspberry and the NEW Aveda Vibrants color line  in Azaela. Both awesome and uniquely you:)
Aveda's star product,  Hand Relief has also turned pink! Each limited edition bottle contains the  bright, NEW Cherry Almond Aroma we all love. Treat your hand knowing $5 from your purchase goes to the Breast Cancer Research Foundation. 
Trick or Treat!  Dame Salon Spa is proud to be a part of the  Downtown DePere community. We will be celebrating Definitely DePere's Trick or Treat event on October26. This is an awesome opportunity to connect with our neighbors while offering fun for the whole family. Join us as we expect to treat over 500 little spooks 🙂
Traditions!  Team Dame created our signature black pumpkins this fall for team building fun!  Stop at Dame and be greeted by another reminder of this team's creativity and talent.
NYC or bust! Nikki and I are headed to the big apple October 11th- 14th for an inspirational opportunity.  Stay tuned for big news!
SAVE THE DATE:  Team Dame invites you to our Holiday Event on November 16th.  Details to follow.

We look forward to seeing you at Dame!
Maggie Dame