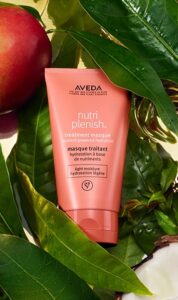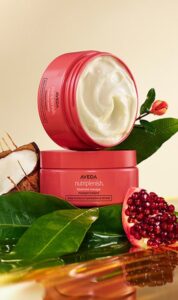 If your tresses are thirsty, we have a NEW solution for you!  Introducing Nutriplenish Hair Treatment Masques in Light and Deep that deliver unprecedented hydration!  It's the perfect time to introduce these masques as the winter months can be very unforgiving on hair.  Here's the rundown.
If you have thick hair, the Deep Masque will be your new bestie, and if your hair is on the finer side, go with the Light version.  
The Deep Masque is a decadently rich butter and has the consistency of a thick body butter.
The Light Masque delivers just as much love but is an ultra-light gel creme that won't weigh hair down.  
Whether Deep or Light is your jam, expect your hair to look and feel conditioned, soft, manageable and shiny…as if it had the best night's sleep ever!
This Month at DAME!
For any item purchased from the Nutriplenish family, be entered to win a complimentary Nutriplenish Moisturizing Treatment experience!  A $65 value!
Lana
Lana is the definition of a DAME Daymaker!  She listens carefully, works diligently, moves thoughtfully, and treats every guest like family.  She has been a pillar of strength and loyalty at 620 George Street having perfected her craft in the building for 20 years.  Lana is truly a gift to our team and guests.
"I absolutely treasure my appointments with Lana.  She is a great stylist and a wonderful human being.  She loves what she does and it shows.  A true professional!"
Be Fabulash
Curious about eyelash extensions?  Oh, my lash!  Perfect lashes are just a blink away.  
A lash extension service at DAME consists of adhering individual lashes to your natural lash line for wear up to 3 weeks.  Available in either classic or volume, both will produce immediate results leaving your eyes looking brighter, fuller, and completely eliminate the need for mascara!
Our lash babes at DAME: Andi, Meghan, Maria and Lexi E can't wait to make your lash dreams come true!
Renew in 2022
Rescue and revitalize your lack-luster skin with the new DAME Detox Facial with Aly.  This is the ideal treatment for someone who has congested skin and wants to defend it from pore clogging impurities yet still desires the exfoliation benefits of dermaplaning and an Aveda plant peel.
Aveda Plus Rewards
January 4-9
BK Deep Cleansing Clay Masque
Redeem 2,500 points
BK Intense Hydrating Masque
BK Deep Cleansing Clay Masque
Redeem 4,000 points
January 19-23
Nutriplenish Curl Gelee
Redeem 3,000 points
January 1-31
Receive 1,000 bonus points with purchase of a Nutriplenish Hydration Set (shampoo, conditioner, leave-in conditioner)
January 29-February 5
Double points on ALL purchases