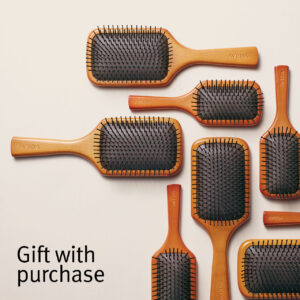 Mini Paddle: Our Gift to You!
Now through December 31, spend $100 in Aveda retail and receive a wooden mini paddle brush.  The mini paddle features extended bristles for easy detangling and reduces stress to hair and scalp during styling.  Ideal for on the go and smoothing hair to create smooth, straight styles.
Cheers to Mary
After 48 years in the beauty industry, our beloved Mary is retiring.  While we will deeply miss her warm hugs, contagious laughter and kind soul, Mary will ALWAYS be a very special member of Team DAME.  
"Klatch & Kringle" for Mary
Thursday, December 16, 2021
9:00am – 12:00pm
DAME Salon Spa
Stop by for a hug, share a story and toast to Mary's amazing career!
Custom Gift Sets
Holiday shopping made easy at DAME!  Create a personalized gift set from Team DAME's Hero Favorites: Nutriplenish and Botanical Repair!  Each gift set will come with a complimentary travel size hand relief and an Aveda Holiday branded gift bag.
Botanical Repair: Cleanse, condition, repair.  It's a natural love affair!
Nutriplenish: Superfoods that hydrate hair to your heart's desire!
Aveda Plus Rewards
Mini Rewards : December 6-10
Redeem 1,500 points
Mini Rosemary Mint Set (shampoo and conditioner)
Mini Shampure Set (shampoo and conditioner)
Mini Volume Set (volumizing tonic and phomollient)
Mini Curl Set (texture tonic and be curly curl enhancer)