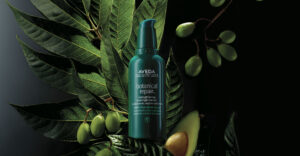 New Product Alert!
Botanical Repair Overnight Serum
A product that dramatically repairs your hair (yes, even those pesky split ends) to reveal a stronger, shinier and sleeker mane while you sleep?  That dream is now a reality with Aveda's new Botanical Repair overnight serum!  Supercharged with the same bond-building prowess that Aveda's Botanical Repair line has become so loved for, this serum strengthens hair from the inside out, repairing damage and creating an invisible veil that prevents any future breakage in the process.
Win at DAME!
This month, be entered to win a complete Botanical Repair system by purchasing any Botanical Repair product!  Products in giveaway include: Strengthening Shampoo, Strengthening Conditioner, Rich and Light Masques, Leave-In Treatment, and the NEW Overnight Serum!  A $264 value!
Ingrid
Trailblazer…Progressive…Dynamo.
Three incredibly strong words to describe an incredibly strong stylist.  Ingrid is Team DAME's magic maker!  She is always looking to break barriers and reach new heights.  Her love of microblading has continued to grow since first bringing it to DAME in 2019, and she has since mastered her craft by taking an advanced training class.  She thrives on change, new ideas and progress.  Inside this firecracker professional, Ingrid also has a very kind and relatable heart with the ability to make her guests feel both confident and beautiful.
Are You Sick of Shaving?
With Spring Break around the corner, now is the perfect time to try waxing!  Our wax team at DAME: Andi, Carolina, Lexi M and Lexi E, ensure a comfortable experience in our cozy and tranquil spa.
The incredible benefits of waxing over shaving include: No cuts or nicks that leave scars, hair grows slower and finer, waxing is fast and convenient, and your skin will feel smoother longer without feeling itchy.
NEW! Color Renewal
Aveda's new nourishing color renewal masques for at-home use will revive color and shine on both color-treated and untreated hair!  With high performance results after just one use, these treatment masques will give hair intense conditioning and nourishment while leaving it softer, silkier and healthier looking.  Available in warm brown, cool brown, warm blonde and cool blonde.
Appointment Confirmations
Are you receiving appointment confirmations via text or email?  Please show us some love and help our DAME Daymakers by confirming "YES!"
Aveda Plus Rewards
March 1-8
Botanical Repair Leave-In Treatment
Redeem 3,500 points
March 1-31
500 bonus points with purchase of Botanical Repair Serum
March 9-16
Cherry Almond shampoo and conditioner
Redeem 3,000 points