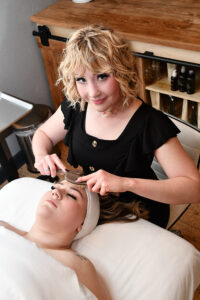 Treat yourself (and your skin) this month at DAME.
NEW!  The DAME Calming Facial
This super-soothing skin treatment will calm redness and gives you immediate hydration and revitalizing results.  Enjoy a cooling masque to soothe summer skin and say hello to restored radiance!
Aveda Perfecting Plant Peel
A must have mini facial!  This professional treatment helps retexturize skin, smooth fine, dry lines, and refines the look of pores.
*Plant Peel can be added to any service for $30
Revitalizing Eye Treatment
This treatment relieves the stress from your eyes as it eliminates puffiness, softens wrinkles, and diminishes fatigue wrinkles.  See your eyes come alive with Botanical Kinetics Energizing Eye Creme!
*Eye Treatment can be added to any service for $15
Hydrating Water Gel Creme
A hydrating, soothing and luxurious moisturizer that instantly cools and nurtures skin, boosts hydration levels for up to 24 hours, and visibly reduces redness.
Win a DAME Facial!
Be entered to win a facial by purchasing any of Team DAME's Botanical Kinetics Skincare Faves: Hydrating Water Gel Creme, Energizing Eye Creme, Serum, OR by adding a Plant Peel or Eye Treatment to your service.  An $80 Value!
NEW!  DAME Gel-X
Coming soon!  The ultimate game-changer for nail extensions.  Create a beautiful, natural looking nail extension in seconds with the NEW DAME Gel-X!  It's an easy way to add instant length, try a different shape, and play around with intricate nail art.  Ge-X is like acrylics, but better!  The extensions act as an overlay on your natural nail causing little-to-no-damage.  In fact, they can even help your natural nails underneath grow longer and stronger!
Andi
Andi lives and breathes DAME's values.  She has put so much commitment into her career and has truly leaned in and grown.  She has embraced her role as an Aveda Insider, Bellami Extension Master, and is always seeking guidance and mentorship from those around her.  These are all shining examples of her dedication to lifelong learning.
Andi is a thoughtful communicator and cares deeply and calmly for each and every guest.  She connects to others with ease because her gentle soul and genuine kindness is contagious!  You simply want to be around Andi…she makes you feel safe, heard and loved.
Andi's heart is as big as can be!  She loves and adores her team.  Andi and her fiance, Zachary, are always giving of themselves to their friends, family and co-workers.  They truly take care of the ones they love.
Welcome, Alexa!
We are so excited to welcome Alexa to Team DAME!  Alexa is our newest Nail Specialist and brings a love of design to our dedicated spa team.  Her attention to detail and creative designs are out of this world!  We can't wait for you to meet our newest DAME Daymaker.
Aveda Plus Rewards
June 8-14
Father's Day Gift Sets
Pure-Formance Grooming Clay – 2,500 points
Invigorating Style Set – 4,000 points
Pure-Formance Shave Cream
Rosemary Mint Hand & Body Wash
Lip Saver
Pure-Formance Hair Set – 5,000 points
Pure-Formance Shampoo
Pure-Formance Conditioner
Pure-Formance Grooming Clay