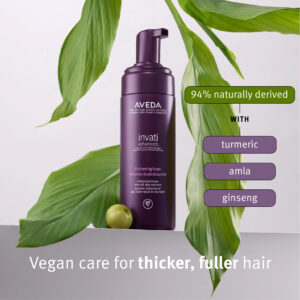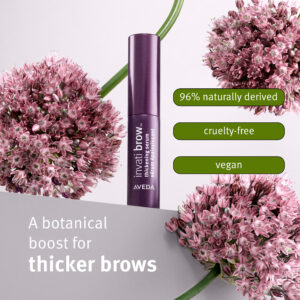 NEW!  Invati Brow Thickening Serum
The desire for thicker, more natural brows has never been higher!  Brows frame the eyes, set the tone for the face and add to its overall youthful appearance.  Brows can truly make a difference in how a woman feels about herself.  
Enter the incredible new Invati Brow Thickening Serum!  This serum promotes fuller, denser-looking brows in as little as 4 weeks with full results in 12!
This 96% naturally derived, vegan brow serum instantly thickens brows with the power of amla while ginseng and certified organic turmeric, combined with botanical actives, revitalize and nourish brow skin to help restore the overall appearance of your brows.
Invati Brow Thickening Serum is dermatologist and ophthalmologist tested.
NEW!  Invati Advanced Thickening Foam
Aveda's Invati line of products is designed to regrow hair over time and eventually give you fuller, thicker hair.  But what can you do in the meantime to achieve immediate results?  Invati Advanced Thickening Foam is your answer!  This highly innovative product not only makes hair more voluminous but also makes it look healthier and shinier.
This transformative liquid-to-foam texture helps reinforce fragile and fine hair.  A blend of amla and rice protein encapsulates each strand from roots to ends for an instant plumping effect with flexible, touchable hold and shine.  
Advanced Thickening Foam will not build-up or weigh hair down, protects hair from thermal damage from blow drying and improves manageability for easier styling.  
Team DAME is truly excited about this amazing new product!
Kayla
Kayla has been chosen as one of 7 finalists in the National Intercoiffure 2021 Cut, Color, Texture Contest!  As a finalist, her work will be seen around the nation and also earns her an invitation to perform live on stage in NYC!  We are so proud of you, Kayla, and love watching you shine doing what you love…HAIR!  
Welcome, Daymakers!
We are thrilled to welcome  Jennifer, Carolina and Lexi to Team DAME!   Jennifer shines bright as a front desk daymaker while Carolina and Lexi are our newest rockstar stylists.
Give Research a Hand
October is Breast Cancer Awareness Month and Aveda's limited edition Breast Cancer Awareness Hand Relief is back!  This year's edition features Aveda's classic Shampure aroma, a blend of 25 plant and flower essences including certified organic lavender petitgrain and ylang ylang.  $10 of the purchase price supports cruelty-free research through BCRF.
Aveda Plus Rewards
October 1-31: Invati System
Receive 1,000 bonus points with the purchase of the 3-step system
October 1-31: Invati Innovation
Receive 500 bonus points with the purchase of Invati thickening brow serum OR Invati advanced thickening foam
October 11-15: Cherry Almond Set
Shampoo and conditioner (3,000 points)
Men's Rewards: October 25-29
Grooming clay (2,500 points)
Invigorating set: Shave cream, Rosemary mint hand & body wash, Lipsaver (4,000 points)
Men's hair set: Pureformance shampoo, conditioner, grooming clay (5,000 points)