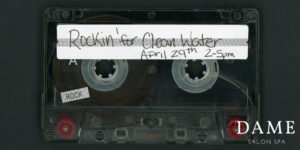 April is Earth Month and Dame Salon Spa is going to be "Rockin"!
Join and support us all month as we raise money and awareness for CLEAN WATER.
Did you know that 99% of the U.S. drinking water comes from our surrounding Great Lakes? We are passionate about keeping this water clean thus having joined forces with the Alliance for the Great Lakes. All proceeds from our fundraising efforts will go to this life changing organization. Join us in our mission and help make this year a huge success. WWW.GREATLAKES.ORG
Following are some fun ways to get involved:
SALON SILENT AUCTION:
Our stylists are donating their services to the highest bidder. Bid on your choice from a list of our top requested services. Choose from colors, haircuts and styles. It's a win win for clean water.
SPA DAY RAFFLE:
Our Spa Specialist are donating a luxury spa day experience to one lucky winner. Receive an Aveda Pedicure, Massage and Facial (value $225). Raffle tickets are 1-$5, 3-$10, 5-$20.
H2O SHAMPURE BODY WASH PURCHASE:
100% of all H2O Shampure Body Wash purchases go to the Charity Water. This is our one worldwi
de partner.  WWW.CHARITYWATER.ORG
"Rockin' for CLEAN WATER" at DAME:
Sunday, April 28 from 2-5
Dame Salon Spa will be rockin' 80's edition for CLEAN WATER!
Live entertainment by Johnny Wad featuring Chris Dame.
Our bartenders will be serving the house special, Tito's Spiked Punch. Lite bites also being served. Tic
kets are $25.
Come party with us and raise money for a great cause.  Prizes for best dressed/best hair. 
80's attire is like, totally encouraged!
All proceeds go to the Alliance for the Great Lakes.
Items listed above may be purchased at Dame Salon Spa or by calling 920-336-4974
Cheers to CLEAN WATER FOR EVERYONE!
Maggie Dame