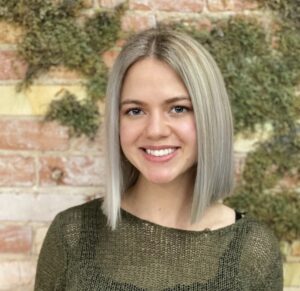 Watch out, a new hairstyle has come to town.  Meet, the chunky bob.  What is the chunky bob?  It looks exactly as it sounds: A straight-cut bob (or blunt bob) that embraces the weight and has minimal texture.
Not quite ready to cut your hair all the way to your chin?  No need to worry!  Mid-length and longer bobs are on-trend.
A flattering, modern and super cool cut, the chunky bob is the ideal style to try as the warmer months roll in.  It's classic, low-maintenance and requires very little styling.  Additionally, a blunt-cut bob can be elegant, fun or sophisticated (not to mention a great way to show off your neck and shoulders)!
This spring is all about sharp lines and the courage to cut off those extra inches!  TEAM DAME can't wait to help you freshen up your look with a chunky bob, which is undoubtedly the hairstyle of the year!
"A woman who cuts her hair is about to change her life." – COCO CHANEL
Lianna
Sweet Lianna.  This young woman is quickly soaring as a stylist at DAME.  She is incredibly talented and a very quick learner.  When Lianna is taught something once, she will retain and recreate while adding her own special twist.
The entire team rallied to care for Maggie's guests following her injury, but Lianna single handedly carried the heaviest load, which she made look light because of her grace and dedication.  Lianna's calm confidence is truly a gift to our guests.
Lianna has the highest level of integrity and professionalism!  We are so proud of her commitment to learning, growing, and bringing a joyful heart to TEAM DAME every day.
Miracle Worker
Oh, hello gorgeous, healthy hair!  Have you tried Aveda's Botanical Repair Strengthening Serum?  Find out for yourself why it is one of Aveda's most sought after products globally.  Instantly repairing split ends and transforming your hair from the core, this serum can literally be used morning, noon or night to smooth AND strengthen.
Making Magic
TEAM DAME huddles every morning!  It's how we ground ourselves and create energy and positivity.  We communicate our values and goals and celebrate personal achievements.  It's also a time that we recognize our very own DAME Daymaker!
NEW!  Now offering week-of online booking!
damesalonspa.com
AVEDA Plus Rewards
March 2-8
Botanical Repair Strengthening Trio Sets
Light or Rich
Redeem 2,500 points per set
March 14-20
Botanical Repair Full-Sized Shampoo & Conditioner Sets
Redeem 7,000 points
Did you know?
Aveda Rewards can be redeemed at aveda.com for certificates to be used at DAME!