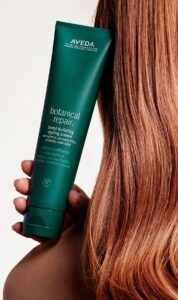 Sleek Styling Meets Hair Bonding
If you are looking for the perfect "less is more" product that checks all the boxes, look no further than the NEW Botanical Repair Bond-Building Styling Creme!  It is the first styling product within the Botanical Repair family and we are OBSESSED!  It strengthens, prevents and protects hair from damage, has thermal protection up to 450 degrees, keeps hair frizz free for up to 72 hours, and offers a light, flexible hold.
This styling creme is not heat activated so it is for anyone and everyone.  Simply apply to damp hair and style how you desire!  Pro Tip: Apply dry to refresh and revive 2nd day hair.
Gift with $100 purchase: Luxury shower cap ($40 value)
Brows Brows Brows!
Microblading is the art of placing tiny strokes of a semi-permanent pigment over your existing brows.  If you are looking to create fuller brows, a higher arch, remedy over plucked brows, create symmetrical brows, wanting a solution for hair loss due to alopecia or any other medical condition, microblading is definitely, absolutely, 100% for YOU!
DAME's trained brow professional, Lexi E, would love to answer questions and talk all about your brows during a complimentary consultation.  Call DAME to schedule today!
DAME Academy
Earn your Masters in Hair!  Did you know that every new talent at DAME goes through a rigorous 3-month technical training period with owner, Maggie Dame?
At DAME, it is imperative to us that our professionals understand the 'why' for every service they provide.  Following technical skills training, our new talent is taught business building skills including social media and creating their dream career.
DAME Academy was born to ensure that every team member is prepared to give our guests the world class experience and level of excellence that they have come to know and love for years to come.
Welcome, Daymakers!
We are proud to welcome Bailey and Aleida to Team DAME!  These bright, eager and incredibly talented women will soon begin offering hair services and Bailey is already making days as a skincare and nail specialist!
Aveda Plus Rewards
February 2-8
Cherry almond shampoo + conditioner
Redeem 3,000 points
February 10-16
Salon gift certificate
Redeem a $50 certificate for 7,000 points (usually 10,000 points!)
February 22-28
Botanical repair bond-strengthening creme
Redeem 4,000 points
February 1-28
500 bonus points with the purchase of a Botanical repair strengthening overnight serum