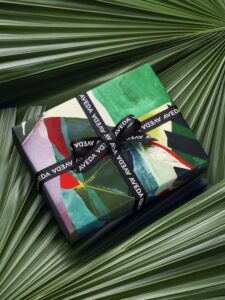 'Twas the First of November and all throughout DAME
Not a detail was missed for we'd be ashamed
The wreaths were hung at each station with care
Eager for guests that soon would sit there
The products were nestled all snug in their places
Dreaming of styling and brightening  faces
Peppermint mochas were ready to go
Oh how we couldn't wait to put on a show
When the guests arrived there arose such a clatter
The gift sets, the music, the laughter and chatter
Away to our chairs we flew like a flash
Consultations began for grand plans to hash
The shears and the brushes were all on the go
Giving lustre and shine for great hair to grow
Facials, massage, manis and pedis
We love making DAME guests holiday ready!
Purposeful Giving
Luxe gift sets are now at DAME!
Gifts under $30
Gifts for her
Gifts for him
Gifts for the Aveda lover
High performance hair care
Gifts for the curl connoisseur
Body care gifts
Maria
Maria is a gift to DAME and brings an abundance of light and love to our spa!  She is a true professional and a natural, healthy nail expert who genuinely loves feet.
Maria has a huge heart for guests who need extra attention because of a medical condition.  Her passion and dedication in this area brought her to Canada to become certified in pedicures specifically for individuals with diabetes.
Maria has recently expanded her service offerings to include lashes!  Her meticulous work and great attention to detail has brought her immediate success.
It's BAAAAACK!
The limited edition Shampure pure-fume mist is now at DAME!  Grab this Aveda cult favorite while supplies last.  The perfect stocking stuffer!
Give Love, Shop Local
On Small Business Saturday and EVERY day, Team DAME is grateful for you…our incredibly loyal guests!
As a token of our appreciation, on Saturday, November 27, receive a complimentary travel size hand relief with a $50 product purchase.  You'll also be entered to win a DAME Spa Experience!  Not 1, not 2, but 3 lucky winners!  Thank you for choosing to "Shop Small" at DAME.
Aveda Plus Rewards
November 4-6
3x points on all purchases
November 8-12
BK Energizing Eye Creme
BK Masque Set (Deep Cleansing and Intense Hydrating)
Redeem 3,000 points for Eye Creme
Redeem 4,000 points for Masque Set
November 16-18
Favorite Trio
Air Control, Foot Relief Moisturizing Creme, Thickening Tonic
Redeem 6,000 points
November 1-30
Treatments Bonus Offer
Receive 500 bonus points with the purchase of any hair treatment or masque (full size or liter)