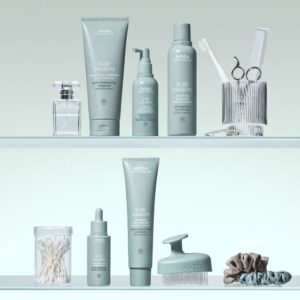 Everything!  Your scalp is essential for healthy-looking hair.  After 8 years of scientific research and 13 clinical studies, Aveda introduces scalp solutions: A holistic approach to scalp and hair renewal that helps fight the signs of premature aging to give hair renewed vitality and shine.  
Scalp skin ages in a similar way to our facial skin because it's exposed to the same environment as our face.  The four key stressors that cause premature aging are: Dryness, oiliness/build-up, pollution/environmental aggressors, and irritation/redness.  The scalp solutions family has products to address each of these concerns and is for all hair and scalp types.  Treat your scalp no differently than the skin on your face or bodies!
3-Step Scalp Care

Exfoliating scalp treatment: Liquid gel exfoliant gently and deeply detoxifies the scalp.
Overnight renewal serum: Lightweight serum fights the signs of premature scalp aging while you sleep.
Refreshing protective mist: Lightweight treatment spray refreshes and protests the scalp all day.
Candice
From a young girl who stumbled into the beauty industry, Candice has seized the opportunity for growth and has earned her role as a leader in one of the area's top salons.
Simply put, there is no one who will outwork Candice.  Her moral compass leads her to do the right thing at all times, even when no one is looking.  She will never choose the path of least resistance.  Instead, she looks to choose the path that will help the team win even if it requires more effort.  She is disciplined, believes in her work, and never waivers on her values.    
Our guests and team deeply trust Candice, which is commanded by her unwavering performance.  They truly know that she will take care of them.  
Candice's values shine most brightly in her role as Mom.  She has fought and paved her way to create a beautiful life for her precious children, Mariah and Austin.
"No Man Left Behind"
Our team work goes beyond sharing details from our personal lives.  We are a sisterhood and we have each other's backs even when we are tired and have nothing left to give.  At the end of every day at DAME, we live by a "no man left behind" motto which means we are blow dry buddies, finalize all details, and make sure every team member and guest is taken care of before we leave.
Win at DAME!
During the month of January, be entered to win the ENTIRE scalp solutions family by purchasing any scalp solutions product.
A $260 value!
New Business Hours
Monday: Closed
Tues-Thurs: 9am-9pm
Friday: 9am-6pm
Saturday: Closed
Sunday: Closed
Aveda Plus Rewards
January 1-25
500 bonus points for any 2 full-size botanical repair products
January 17-23
Botanical repair strengthening overnight serum
Redeem 5,000 points
January 25-31
Botanical repair intensive strengthening masques
Redeem 4,000 points for light OR 7,000 points for rich
January 26-31
Earn 2x points on all purchases